This review of 'Modern Love (or Love in the Age of Cold Intimacies)' appeared in the March issue of Art Monthly magazine: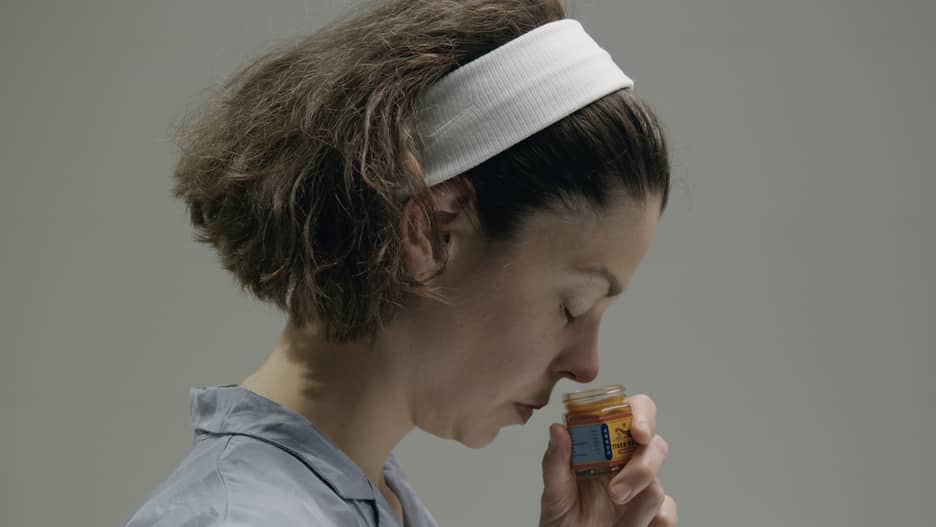 The title of this captivating group show apparently owes nothing to David Bowie, according to curator Katerina Gregos, yet 'modern love' has a much better ring to it than, say, 'contemporary love'. At the heart of an exhibition that explores how the internet and social media have altered and, in some ways, trivialised our experience of love and intimacy, there is a nostalgic longing for closeness, physical presence and romance that harks back to a more analogue era. Borrowed from sociologist Eva Illouz's book Cold Intimacies: The Making of Emotional Capitalism, the titular oxymoron aptly characterises love in our digital age, conditions made only worse by the pandemic.
Maria Mavropoulou's Holy Trinity, 2018, sets the exhibition's tone. Framed by the vaulted ceiling of the museum's neo-Baroque building, a chilling photographic triptych made up of a smartphone, tablet and laptop appear glowingly white and empty of content against a black background. In the artist's'Family Portraits', stylised black-and-white photographs stage conversations between devices, configured to suggest particular social occasions and private moments they encroach upon – 'Movie Night', 'Sunday Afternoon', 'Anniversary Dinner', 'The Lovers'. In the same space, Hannah Toticki Anbert's Touch Screen Protection Rings, 2019, and Smart Phone Protection Glasses, 2019, present accessories on mannequin hands and heads, specially designed to help wean us off digital addictions. 
Digital gadgets rely on our fingertips to activate them, so much so that they start to feel as extensions of our bodies. A recurring theme throughout the exhibition is how the sense of touch simultaneously enables access to a world of virtual realities, while imposing frustrating limits. Marge Monko's monumental sculptural installation I Don't Know You, So I Can't Love You, 2019, uses blown-up images of hands recalling Michelangelo's Creation of Adam from the Sistine Chapel – their outstretched index fingers almost but not quite touching – as a backdrop for the amorous banter between two Google Home assistants. Elsewhere, the voice-over in Kyriaki Goni's 3D animation The Portal or Let's Stand Still for the Whales, 2020, evokes the 'fear of touching' that the pandemic has triggered, conjuring a touchless future, or rather one where the solace of touch can only be found in the dark recesses of the web.
At a time when the needs for affection have to be satisfied without physical contact, self-love is among the modes of 'modern love' worth investigating. In her 4-minute warm up, 2020, styled as a 'how-to video', we see artist Laura Cemin experiment with a set of heat-inducing products, from Tiger Balm that she rubs onto her face to a hairdryer that she places on a pillow so as to simulate a living, breathing being lying next to her. Pleasing others, as well as oneself, is what drives members of a Brooklyn-based collective of female sex-workers, who prefer to think of themselves as emancipated sexual healers, in Melanie Bonajo's gorgeous three-part Night Soil: Economy of Love, 2015, in which erotic scenes and playful rituals are alternately performed for camera, both indoors and out.
Love declarations nowadays take the form of email messages, just as break-ups all-too-often happen via text. Printed onto a long adhesive foil strip and laid-out as if it were a ceremonial carpet for visitors to tread on, in a sort of addendum to Mavropoulou's 'Family Portrait' series, the statistics make for painful reading. Monko's Dear D, 2015, shows the painstaking composition of what, by the author's own admission, is 'not a classical love letter', though it retains many of its tropes. These sit uneasily with the parallel activities that feed into this 'love email', such as browsing the net, switching between windows or looking up word translations. David Haines's painted portraits of Men Reading Messages, 2019, meanwhile, pictures his protagonists engaging with smartphones in garishly decorated domestic interiors, with a nod to Johannes Vermeer's masterpiece Woman Reading a Letter, c1663.
Gregos casts her net wide with her choice of artists, gathering a group whose work spans different media, sexual orientations and sensibilities. Haines's video Dereviled, 2013, with its black-and-white footage of charismatic preachers in the US purging gays and lesbians of 'their illness' at evangelical church services, is a reminder of some of the more positive and hard-won aspects of 'modern love'. As one of the bisexual protagonists in Bonajo's video puts it, we live in a time of 'increased gender ambiguity and decreased gender roles' – but only if one lives in the right place. Egyptian artist Mahmoud Khaled's contribution, a series of 32 framed screenshots charting an exchange between two Grindr users, offers an insight into how gay men relate to one another in societies where same-sex relationships continue to be frowned upon or criminalised.
The occasionally cloying images of couples, whatever their sexual leanings, touching, hugging or kissing – I am thinking of Margaret Salmon's two-channel 16 mm film I you me we us, 2018, in particular, though she is not alone in this – are fortunately offset by humour. The self-deprecating tone of Marijke De Roover's Niche Content for Frustrated Queers, sorry. you caught me at a bad historical moment, 2020, and of her other memes in that series, is spot on and captures our ambient pandemic-induced mood. A more gentle sense of humour pervades Gabriel Abrantes's delightful short Artificial Humours, 2016. Set in Brazil, this improbable love story between a young indigenous woman and her suitor, a robot resembling a flying saucer with humanoid features, takes us from the villages of the Mato Grosso to the clubs of São Paulo, where the hero wins everyone over by his gift for stand-up comedy.It is a 'sentimental education' of sorts, and one with a happy ending.