This piece appeared in the March issue of Art Monthly magazine: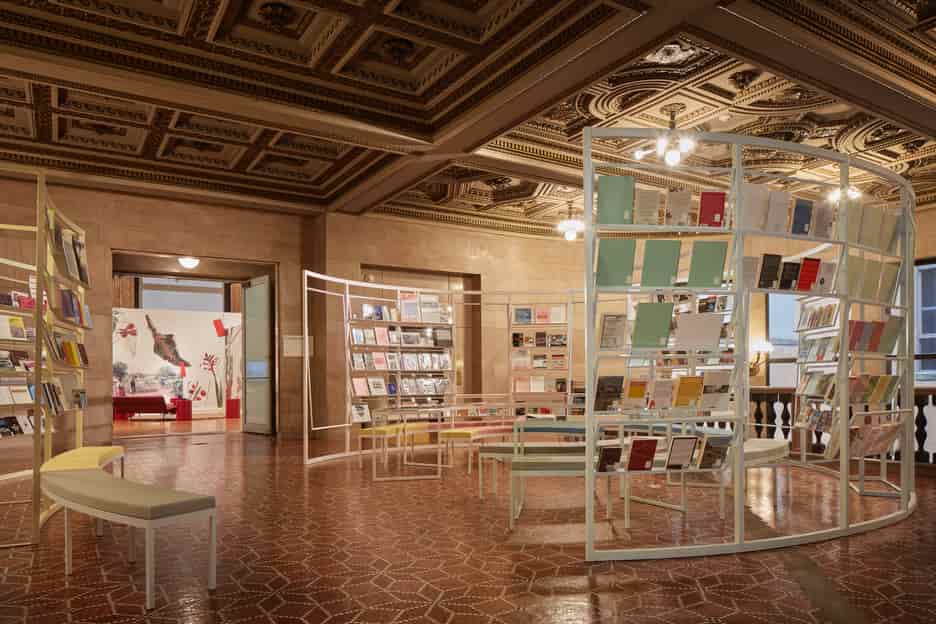 For a first visit to Chicago, one could do worse than stay in one of the lofty palatial suites at the Chicago Athletic Association overlooking Millennium Park and the vast expanse of Lake Michigan. The quirky hotel, where the New Art Dealers Alliance (NADA) chose to hold the inaugural edition of the Chicago Invitational contemporary art fair last autumn, has the feel of a private club, complete with a well-appointed drawing room full of comfy leather chairs, stone fireplaces, wood panelling in keeping with the Venetian Gothic exterior, and even a prohibition-era speakeasy, discretely hidden in a passageway. And who needs to see the Andy Warhol retrospective, which travelled from the Whitney in New York to the Art Institute of Chicago – visible from my window – when one can feast one's eyes on Warhol's lovely portrait of Cindy Pritzker in the privacy of a dining room at the eponymous Cindy's rooftop restaurant?
Instead, I concentrated on the small but engaging 'Bauhaus Chicago: Design in the City' exhibition, charting how Bauhaus design ideals and working methods were disseminated and adapted to the US context by tutors and students at the New Bauhaus, which later became the Institute of Design, and the Illinois Institute of Technology, shaped respectively by a former Bauhaus professor, László Moholy-Nagy, and the German art school's last director, Ludwig Mies van der Rohe, both of whom emigrated to Chicago in 1937. The show's companion piece 'Weaving beyond the Bauhaus', presented in a recondite part of the museum, made a somewhat less convincing case for the translation of knowledge from the Bauhaus weaving workshop to US arts education institutions such as the Black Mountain College, where the Bauhaus-trained textile artist Anni Albers taught from its inception in 1933 onwards, influencing future generations of mostly female artists working in this medium, from Lenore Tawney and Claire Zeisler to Sheila Hicks.
Images Letters Stones, 2019, the Dutch artist Wendelien van Oldenborgh's contribution to the third edition of the Chicago Architecture Biennial, enigmatically titled '…and other such stories', likewise engaged with the Bauhaus legacy, particularly that of its unsung heroines: women like the visionary urban planner Lotte Stam-Besse, the subject of Van Oldenborgh's film Two Stones, 2019, who defied gender stereotypes by taking up the study of architecture at the Bauhaus school in Dessau, having initially been accepted into the weaving course deemed more suitable for female students. Dialogues cobbled together from archival materials, including the writings of Bauhaus director Hannes Meyer (one of Stam-Besse's lovers), architectural critic Sybil Moholy-Nagy, Chicagoan African-Americans Homer Smith and Louise Thompson, housing and civil-rights activist Irene McCoy were at heart of the Images Letters Stones installation, comprising lenticular prints, a video projection and a large outdoor cinema screen that occupied one of the rooms at the Chicago Cultural Center, the main exhibition venue of the CAB.
Dubbed the 'living room of the city', the former Central Public Library in Randolph Square housed a sizable portion of the Biennial's offerings, dealing with gun violence, the need for affordable public housing, social equity, land and property ownership, environmental concerns and other issues reflected in the literature lining the skeletal shelves of Adrian Blackwell's utopian, circular Anarchitectural Library, 2019, with contributions by local activist groups. My favourite projects brought together under the CAB umbrella were to be found at various off-site locations across the city, embedded in specific neighbourhoods and seeking to address their needs.
The prospect of staying at the Justice Hotel, set up for the Biennial's run (and beyond) at the non-profit art space 6018North in the Edgewater neighbourhood, was enticing enough to lure me out of the Chicago Athletic Association for a night. I was not disappointed. Once I worked out how to open the fiendish inner door featuring a neat line of purely decorative door knobs – a work by artist Lucas Murgida aptly called Lobster Trap, 2009–19 – I was confronted with five glass jars labelled with different types of justice, sitting atop a makeshift reception desk. Only one of them could win my vote. Without dithering, I inserted a cent coin into the one marked 'social justice'.
A meeting with the artist Kyle Bellucci Johanson at his apartment gallery table, just off the Milwaukee Avenue, made me arrive late, halfway through the event scheduled by guest curator artist Timothy Engelbrecht for that day in the weekly calendar of 'programming justice', as 6018North's artistic director Tricia Van Eck put it. I walked into an animated discussion between men and women who looked far too young to be war veterans, yet their manner bespoke the traumas they had experienced while serving in different capacities in the US army. Over wine and a hearty bowl of soup Engelbrecht had cooked for us, we lingered in the warm atmosphere of the Justice Hotel's library-cum-sitting room. Bellucci Johanson had been telling me about the discursive five-course meals that he stages soon after an opening for a small group of invited guests, whose elaborate ingredients resonate with the show's themes. Likewise, conversational dinners and Sunday brunches accompanying various healing rituals are an effective way of community building and connecting people at 6018North.
As the only guest to have checked into the Justice Hotel that day, I could have had my pick of the five rooms – each designed by a different artist or architect – at the mansion house built in 1910 by Arthur Woltersdorf, who edited the 1930 Living Architecture volume that inspired a group show by that title at 6018North. The largest had its walls painted in a range of vivid, culturally (and racially) coded hues by artist-architect Amanda Williams. Referencing a body of work that involved painting entire facades of vacant houses on Chicago's South Side, where Williams grew up, Color(ed) Theory: Englewood in Edgewater connects in its very title two socially disadvantaged neighbourhoods on opposite ends of the city. The proceeds from the Justice Hotel at 6018North will help finance a long-term cooperative venture run along similar lines on the South Side.
The following morning, I headed north from Edgewater to Rogers Park along the lake, using a map Van Eck drew for me. Besides the unmissable Metropolis Coffee Company, it featured a few local galleries. Roman Susan on the corner of Loyola Avenue was closed, it being a Sunday, but I was able to peer inside. The nearby PO Box gallery, doubling as a community centre that caters to refugees and the local transgender residents, was open for business: Sundays are when free food give-outs happen under the banner 'food not bombs'. It made a change from the commercial galleries I had visited the day before – Monique Meloche, Marianne Ibrahim, Rhona Hoffman and the somewhat less conventional Document – all located within walking distance from each other in the West Town arts district.
En route for my appointment with Emmanuel Pratt, who agreed to give me a tour of his Sweet Water Foundation in Englewood on a busy Sunday afternoon, Chicago-based artist Dan Peterman came up in conversation as the one who had initiated the movement of ecologically minded urban regeneration and land reclaiming that Theaster Gates and Pratt have since made their own. Pratt, a recent recipient of the MacArthur Foundation's 'Genius Grant', had a forceful manner and a no-nonsense way about him. As we visited various communal educational spaces, 'think-do' workshops and play areas spread around the three-acre urban farm, he explained to me what redlining practices were about, that the adjective 'blighted' associated with predominantly African-American parts of town such as the one we were in – nicknamed 'Sweet Water' – originally referred to decayed crops. The word 'Chicago' itself, as I recall, had something to do with stinking onions.