Translated into Italian, this interview with multi-media artist Aldo Tambellini was the cover story in the December issue of Flash Art Italia: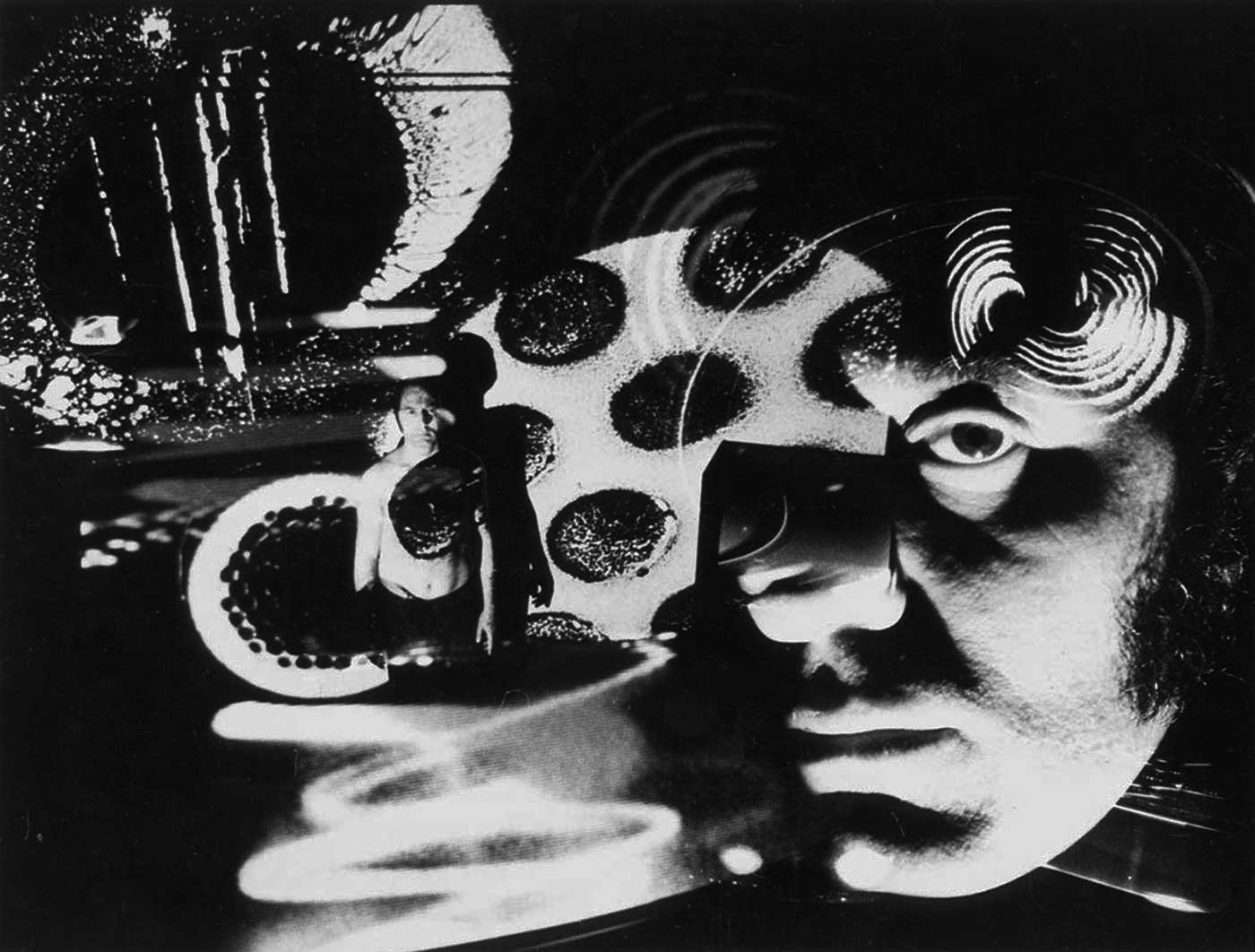 Agnieszka Gratza: You have been described as a pioneer of intermedia art, a term that gained a certain currency in the mid-1960s. It was first used by Fluxus artist Dick Higgins to describe works and actions that fell between recognized media. The happening, for instance, involved collage, music and theatre. How useful is this category for characterizing your own collaborative and interdisciplinary artistic practice at the time?
Aldo Tambellini: Happenings were more of a theatrical experience, whereas I was interested in combining a variety of artistic expressions in my work. I did not use the word "intermedia" myself. Those who saw my early work did not know how to categorize it. Later I came up with the term "electromedia" to describe it because so many of the media I was using relied on electricity. In my performances, cameraless films were projected by one or more 16 mm film projectors and the video tapes were shown on monitors. I used Kodak carousel projectors for projecting hand-painted slides or "lumagrams". The poems recited in these performances were usually played on a tape deck or boom box which sat right on the stage. Electromedia to me is the fusion of various art forms and media – poetry, sound, painting, dance and kinetic sculpture.
AG: When did you start working in this way and who were some of your earliest collaborators?
In 1963, I decided to take some discarded photographic slides and alter them by perforating, scratching circles and spirals, and painting them black. These slides were then projected from one tenement roof top to the façade of another building located on 6th Street and Avenue D in the Lower East Side's Alphabet City. I was pleased with the result and I began thinking about other ways I could use projected slides. This could be considered the beginning of my involvement with multi-media.
A friend from my Syracuse University years, Tom Dent, moved to my neighborhood in the Lower East Side and we got reacquainted. Other black poets used to go to his apartment where they held political meetings, redefining Black identity. They founded a magazine called Umbra. One day I asked Ishmael Reed and Norman Pritchard if they would collaborate with me on a performance at the International House of Columbia University, where they would read poetry and I would project some hand painted slides on them. Norman brought along the dancer Carla Blank who also performed. This was my first performance called Black.
It was a work in progress; each new performance would grow and be energized by the contributions of the performers. My favourite of the Umbra poets, Calvin C. Hernton, the editor of Umbra magazine, was in subsequent electromedia performances. Besides poets, I collaborated with many dancers and musicians. I became friends with Beverly Schmidt who had been a principal in the Alwin Nikolais Dance Company. The jazz musician Calo Scott played the cello in most of my performances, including Black Zero at the Brooklyn Academy of Music, where it was double-billed with Carolee Schneemann as part of the arts festival Intermedia '68.
AG: Writing about Moondial (1966) at the Bridge Theatre in the Village Voice, Jonas Mekas said "The piece fell in that category which is known (by now) as intermedia, in this case dance, plus slides, plus movies, plus sound, plus costumes". The performance has been restaged in 2012 in the Tanks at Tate Modern. How did it compare with the original one?
The first Moondial with dancer Beverly Schmidt was done on a shoe string. None of the performers were paid for the night. I designed the costume for Beverly myself. It consisted of a long tent dress made from clear plastic to which we attached small silver pie plates used to sell pizzas. The purpose of the plates was to reflect the light from the lumagrams and the film as the dancer moved on stage. To complete the costume, I made a head gear for the dancer in which wires and mobile mirrors created kinetics. I had asked Beverly to collaborate with me and I had time to work with her so I found this relationship more familiar than that with her counterpart at Tate, Dallah Touré.
At Tate, we had a budget that allowed us to have the costumes and the head gear professionally done but the rehearsal time was limited. The cello player in London was more classically trained but great at improvising, and he added a lot to the performance. The biggest difference was due to the actual size of the stage. The Tanks had a large area to use as a stage, which gave the dancer the opportunity to be creative in the use of the space and to move around a lot. The original space at the Bridge was limited in size and a more stationary Beverly Schmidt played with the center of the space using more delicate and subtle moves. Likewise, the audience at the Tate far surpassed the one at the Bridge in size and enthusiasm.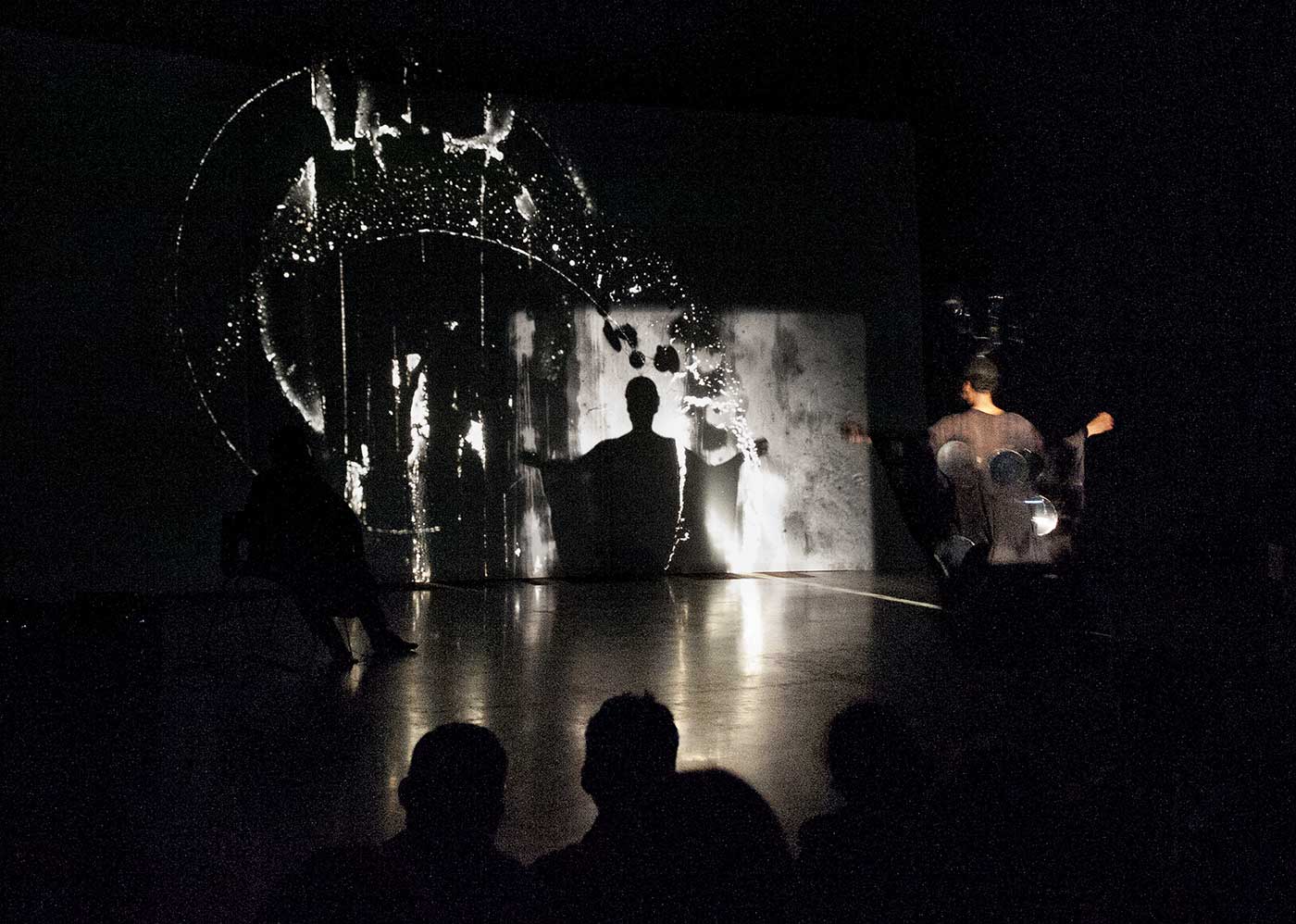 AG: Let's talk about the venues where you showed your multimedia work. Whereas the Gate Theatre on 2nd Avenue and 10th Street that you set up with your then-partner Elsa Tambellini mainly screened experimental films, the Black Gate Theatre, which you co-founded with Group Zero member Otto Piene, became a venue dedicated specifically to electromedia.
The Black Gate was New York's first Electromedia theater. Otto Piene and I joined forces in 1967 to open this space above the Gate Theater. It had no windows, the floor was painted black and there were black pillows on the floor where the audience would sit. The Black Gate was a space for installations and performance, where daring young artists could test new ideas and collaborations. Yayoi Kusama did her first performance called Obliteration there. It caused a furore as the city officials thought it was a sex show. Nam June Paik also performed there as did Charlotte Moorman who zipped herself up in a plastic bag and played her cello. The Japanese composer and sound artist Takehisa Kosuki made an installation that involved transistor radios and USCO group used balloons as projection screens in their installation. The inaugural show featured two of our own pieces: Otto did Proliferation of the Sun and I did Blackout.
AG: I found a review of these two performances by one Sal Fallica, titled "Intermedia at the Gate". The author calls you "the guru of intermedia" and waxes lyrical about Blackout: "Art here is total: it is moving, it has sound: And by being both visual and aural and having this beautiful formal unity we are transported in another media, Intermedia, whose effects have a tremendous and awe-inspiring spirituality." The following year, which is also when the touring festival Intermedia '68 happened, you and Piene jointly took part in Black Gate Cologne, on the invitation of WDR-TV, the educational TV station in Cologne. What form did that collaboration take?
In this instance, our collaboration consisted mostly of an exchange of letters and telegrams planning what we would do. The audience sat on the floor just as they did at the Black Gate Theater. Otto's contribution included polyethylene tubing which, once inflated, enticed the audience to get up and play with it. He also had light sculptures and these fused with my multimedia projections of film and slides. I showed Black TV, which went on to win the Grand Prix at the 1969 Oberhausen Film Festival. The film reflected the social and political situation facing America in 1960s, the assassination of Robert Kennedy, the war in Vietnam, the demonstrations for equal rights and police brutality, among other. The program has gone down in history of film and video as the first to be done by artists in a TV studio.
AG: Your move to Cambridge, Massachusetts in 1976, to take up a fellowship at the MIT's Center for Advanced Visual Studies directed by Otto Piene, was marked by a shift of direction with projects such as the Picturephone Event (1977) and the Communicationsphere, a network that was active in the 1980s.
AT: Soon after I became a Fellow at the Center for Advanced Visual Studies at MIT, I got involved in the use of art and technology. With my students I formed a group called Communicationsphere. As a group, we had the intention to create a world-wide interactive network of artists, engineers, technicians and students. I was excited about having cultural and informational exchanges with other parts of the world. The communication was primarily done with a slow scan mechanism which connected two or more locations that had the same equipment. The messages or images were transmitted back and forth or among the group through telephone wires and would scan slowly on the screen of the receiving location.
AG: As well as experimenting with the creative use of telecommunication, you increasingly turned to poetry. An anthology of your poems written between 1946 and 2016, titled Aldo Tambellini: Listen appeared in 2017 with an introduction by Ishmael Reed, one of the Umbra poets. Do you think of poetry as independent from your work as an artist?
AT: I started to write poetry at the age of 17. My poems have been published in numerous journals and anthologies. The Umbra poets who represented racial strife and the voice of the Black featured prominently in my Electromedia performances. I continued to write poetry myself but came out as a poet much later, after I moved to Cambridge. Like other aspects of my art, my poetry is experimental in format and social or political in content. It reflects society at large, dealing as it does with the poor and disenfranchised, the old and the psychologically damaged. It is a raw look at life. In 2005, I made an award winning anti-war experimental film also titled Listen, using images recorded from television during the first Iraqi war and my anti-war poems, which I read.
AG: In your opinion, what has triggered the revival of interest in your work culminating with Retracing Black in the Tanks at Tate Modern, the retrospective of the Black Film series at the Centre Pompidou in 2012, your contribution to the Italian Pavilion at the 2015 Venice Biennale and your solo exhibition at the ZKM in Karlsruhe in 2017?
AT: For one, there is a whole generation of young people in their thirties who are disenchanted with the world and the fakeness of everything around them – fake news, fake commitments, fake art, fake politicians. You cannot fool them, they see right through dishonesty; they are looking for something real. This group is turning to the 60s to identify what mattered then and got cast aside, those who have not obtained the recognition they deserve. My name has gotten around thanks to social media and the filmmakers and artists who have reached out to me, keeping me as part of the conversation.
The other thing that has helped immensely is that I have established a working and collaborative relationship with my two curators, Pia Bolognesi and Giulio Bursi. They seek appropriate new exhibition venues, encourage me to produce new work, keep me active and focused. Pia has completed a book about me, The Shape of Things to Come, which will soon be published with Archive Books in Germany and I look forward to seeing it.
AG: And what do you see as the way forward for art, as the art of the future?
In 1961, I wrote on a painting: "We Are the Primitives of a New Era". Once man walked out into space and saw, as cosmonaut Alexei Leonov said, "an inky black sky" and experienced weightlessness, I felt that the artist would have to respond and relate differently to the Universe. There are no straight lines in the sky (as one of my poem reads) and there are no directions. Man floats aimlessly without any gravitational pull. Is this what the artists who have been invited to take a trip out of the Earth's atmosphere will experience? They are bound to return with a desire to create in new ways.